Imperfect Union
6" x 6", Oil on Gesso Board
Cracking Up
3" x 3", Oil on Panel
Purple Heart
Oil on Panel, 9" x 9"
Wounded Warrior
Oil on Panel, 6" x 6"
Trio
Oil on Panel, 9" x 9"
Buttoned Up
Oil on Gesso Board, 6" x 6"
Empty Nesters
Oil on Gesso Board, 6" x 6" SOLD
See Me, Feel Me, Touch Me, Heal Me
Oil on Panel, 6" x 6" SOLD
Under Cover
Oil on Gesso Board, 6" x 6" SOLD
Embracing the Void
Oil on Gesso Board, 6" x 6" SOLD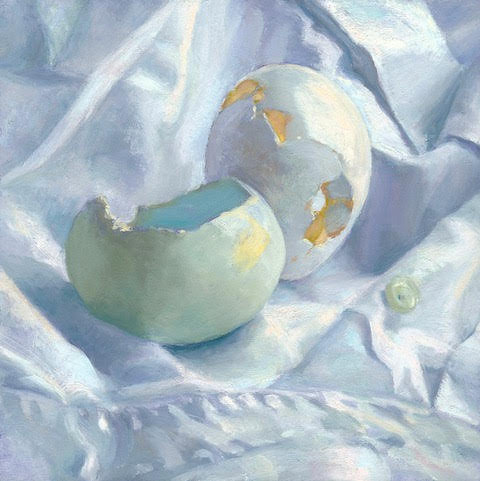 The Angel Cried
Oil on Panel, 6" x 6" SOLD
You've got to be cracked.
It is true I had been collecting cracked eggs for some time, fascinated by their strange beauty. The shapes of the cracks were oddly compelling, but when I reconnected the pieces--held together by their own dried egg white--I was transfixed. The cracks reconstituted in new shapes were eloquent, and the light that shone through them was sublime.
​
I was reminded: "You've got to crack an egg to make an omelet." "You've got to be cracked so the light can get in." My own light came on: a connection between these old words of wisdom and my own experience. It has been said that the longest distance is between the head and the heart. Finally, I made it out of my head. Not because I thought it, but because I felt it.
​
You need to be a little cracked to participate fully in the alchemy of life.
​
Day after day, I took more and more delight in seeing this strange, broken creature emerge in paint. Other eggs joined in. The identifying hints in the background—my husband's retired dress shirts—brought another voice into the mix, leading me deeper into this meditation.
​
What's left when I am cracked open and all the masks of the ego fall away? I stand in a space of vulnerability and devotion. Sharing this work brings to fruition my deepest motive in creating art: gratitude for the transformational power of love and, sometimes, humor.
I hope your experience of this work either cracks you open, cracks you up, or both.